Hi

We are currently not able to host Wwoofers wanting to work at the Sanctuary. If you are able to organise your own accommodation I can arrange for you to do volunteer work at the Sanctuary.

Ideally the Sanctuary wants volunteers to be in pairs for safety reasons.

Please send me a brief email of what your relevant interests and abilities are and I will forward this onto the Sanctuary.

Trust you enjoy your travels around NZ.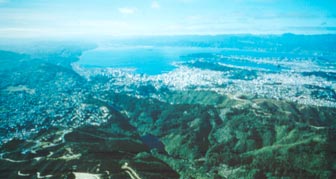 Karori Wildlife Sanctuary Wwoofing

Aerial view of Sanctuary, with Wellington behind

Kris Ericksen (KWS Wwoof coordinator)

11 Koromiko Rd

Highbury

Wellington

Phone: (04) 938 6539        

Mobile: 021 116 4558

Tamas and Yoko weeding tradescantia

27 January 2005

Photo: Peter Russell